Feeding your guests is one of the biggest expenses of your wedding day, with the average cost of catering standing at ! If you're aiming for a reasonably cheap wedding, then cutting your costs on catering should be top of your list to make a big saving, closely followed by the venue and the dress
Planning a wedding can be stressful, and with so much to do and prepare for, the last thing you want to think about is preparing the food yourself. However, by doing your own buffet you can save literally thousands of pounds compared to hiring a professional catering company.
We've put together some themed wedding buffet ideas that are easy, cheap, and most importantly will still impress your guests.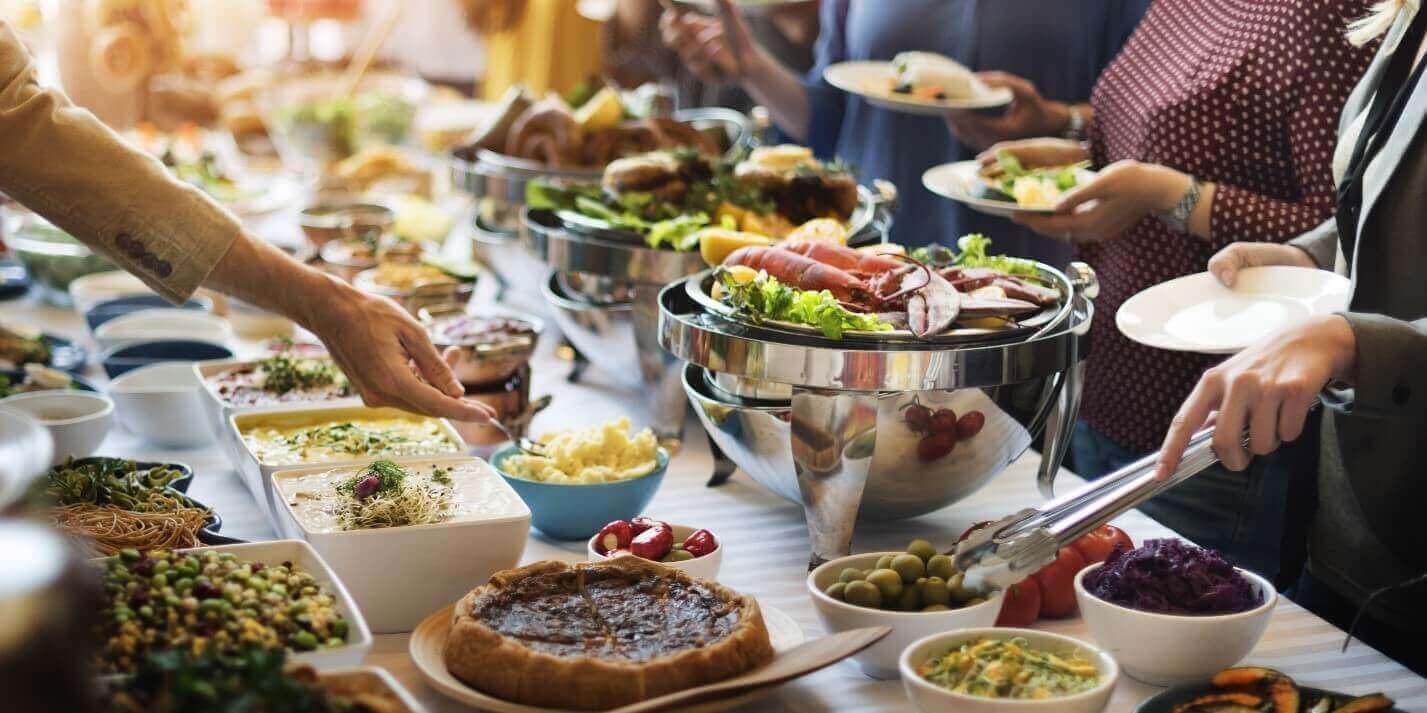 Home made buffet food
They key to stepping up a buffet from children's party to a wedding worthy spread is having a theme. Having a theme means you can make less food without the spread looking lacking, and it also offers the opportunity for some really creative presentation.
Choosing a theme that is personal to yourself and your fiance, or that fits with the wedding itself, will impress your guests even more and make the food one of the features of the day, rather than something you obviously scrimped on.
So, we've put together some ideas of themed wedding buffets to inspire you:
World Themes
Indian
Do you and your fiance love Indian food? Perhaps you even have some Indian heritage and want to nod to that without a full Indian wedding. Indian food is great for a budget wedding because it's so versatile, and can be really cheap to make especially when buying in bulk. Just remember that not everyone can tolerate spicy food so be sure to offer a mild option to prevent anyone going hungry.
Example Menu:
2 large one pot curries (one meat, one veggie)
Big batch of plain white rice
Veggie side such as dhaal or saag aloo
Supermarket Indian selection party pack (such as this 100 piece Indian platter from Iceland for just £5!)
Poppadum's
Mango Chutney and Lime relish - bought from supermarket but put into nicer jars to look home made
Chinese
The best thing about Chinese food is it always goes further than you expect. If you love Chinese but are unsure about cooking it yourself, consider asking your local takeaway restaurant for a deal. Especially if you are a regular customer they might be happy to give you a very good price on a big bulk order.
Example Menu:
2 Chow Mein dishes – one chicken, one veggie
Big platter of deep fried prawns with sweet and sour dip
Egg fried rice with a selection of sauces – Black Bean, Sweet & Sour, Satay
Prawn crackers
Supermarket party pack of spring rolls
Mango Chutney and Lime relish – bought from supermarket but put into nicer jars to look home made.
British
There's nothing like home comforts! British food is instantly recognisable and there tends to be something for everyone available. Some small British flags around the table look great and make it immediately clear what the theme to the food is.
Example Menu:
Sausages (a pork variety and a vegetarian such as Cauldron Foods Lincolnshire)
Mini or sliced pork pies
Cheese and Onion rolls
Half baked potatoes with fillings to choose from – cheese, beans or tuna mayo
Salad with crispy lettuce, British tomatoes and cucumber
Fruit and cream
Caribbean
Caribbean food is becoming increasingly popular in the UK because of it's unique and diverse mix of flavours, but there's still a lot of people who have never tried the cuisine. If you or your fiancé has Caribbean descent it makes perfect sense to cook up this cuisine, but even if you have just travelled there together, or just to a Caribbean restaurant in the UK, it's sure to go down well with your guests.
Example Menu:
2 big pot curries or stews, one meat and one veggie
Chicken coated in Jerk seasoning
Sweetcorn fritters
Rice with peas, beans, and spices
Pineapple coleslaw
Banana fritters with cream or chocolate sauce
Seasonal themes
Summer
If you're having a summer wedding then summer vegetables such as courgettes, carrots, green beans and broccoli will be in season, and therefore cheapest to buy! It makes sense then to use them in your meal to create a summer food theme.
Example Menu:
Large tray tarts made from ready roll puff pastry, spread with pesto and covered with roast summer vegetables
Chicken Caesar Salad
Goats Cheese, and apple salad
Chopped Cucumber and dips
Summer fruit and cream (strawberries, blueberries and raspberries are all in season)
Ice lollies
Winter
Similarly, if you're having a winter wedding why not make the most of the cheapest in-season vegetables, such as parsnips, pumpkins, swedes and leeks? Chilly guests will be delighted by the winter warmers and the cosy, family feelings associated with winter food.
Example Menu:
2 large pot stews, one beef and one vegetable, with dumplings
Fresh bread and butter
Cauliflower Cheese
Spinach and ricotta pastry bites
Apple crumble
Cheese and crackers
BBQ
If you have outdoor space at your reception then a barbeque is a great, cost effective option that everyone will be happy with. The best bit about a barbeque is how the smoke passes delicious smells all around the vicinity, getting your guests hungry and excited for the food.
Example Menu:
Sausages in buns
Beef burgers in buns
Vegetarian sausages or burgers
Vegetable and halloumi skewers
Corn on the cob
Bowl of mixed salad
Picnic
You don't have to be outdoors to enjoy a great picnic themed buffet (although if you are – even better!). This theme is simple, familiar, summery and very British, not to mention a favourite amongst younger guests!
Example Menu:
A mixture of sandwiches e.g. tuna, cheese and cucumber, egg mayo, chicken salad, ham
Various dips (e.g. sour cream, hummus, guacamole) and things to dip such as crisps and chopped cucumber and carrot
Cold pasta salad or coleslaw
Mini sausage and cheese and onion rolls
Fruit salad and ice cream
Personal Themes
Vegetarian
If you and your partner are vegetarian, don't feel pressured to provide meat for your guests, why not introduce them to some of your favourite vegetarian meals instead? Often vegetarian food is much cheaper to prepare as well, so this could be one of the most budget friendly themes.
Example Menu:
Vegetarian lasagne
Spinach & feta quiche
Garlic bread
Hummus and dippers
Cheesecake
Rainbow
A rainbow buffet theme is as simple as choosing bold coloured foods and organising it in the order of the rainbow on the tables. You could choose just a couple of your favourite colours to use, or match the theme of the wedding, or go the whole hog and celebrate the full rainbow!
Example Menu:
Red – Spaghetti Bolognese, cherry tomatoes
Orange – Roasted baby carrots, sweet potato mash
Yellow – Cheese board, crisps, garlic bread
Green – Fresh salad, pesto pasta
Blue – Blueberry topped meringues, blue macaroons
Purple – red cabbage, picked beetroot, red grape